---

School Profile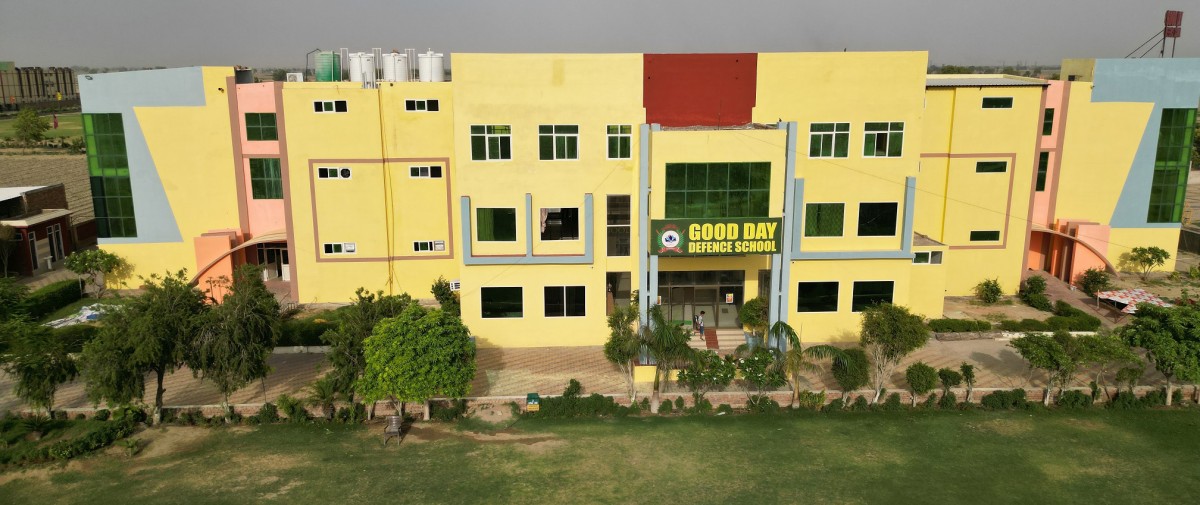 It's written in our scriptures that Education is the greatest wealth, which can neither be divided nor can anyone steal. It is such a wealth that donating does not hurt. With this aim in mind, Good Day Defense School was established in 2016. The purpose of the school is not just to teach children, but the foundation of the country and society is prepared in the school itself. It is our goal that the children of good day defense school should be filled with the spirit of humanity and patriotism. To fulfill these objectives, a different type of education system has been started by the Good Day Defense School. It's amalgam of Vedic methodolgy & Sainik School pattern training. This is the first attempt of its kind in the entire country. GDDIANS remain connected to their traditions by being connected to Vedic culture, while being trained in Sainik School, they become mentally and physically strong. Here the meaning of Vedic ritual is not limited to any one religion or culture only, but children are made aware of every religion and culture based on the essence of Vasudhaiva Kutumbakam. The Good Day Defense School has made a mark in the field of education in a very short time. Good academic record and high ranking in various board examinations have become a synonym to the Good Day Defense School. For us the success is not limited to achieve good ranks but we want our students to stand firmly on every front in life.
For us, the aim of education is not to prepare the generation which is in rat race of career building only, but to prepare the youth filled with patriotism, humanity and our traditions.
- Our aim is to built GDDIANS mentally and physically strong so that they can face every challenge of life & get succceed.
- GDDIANS should be youth eager to learn something new. GDDIANS should make a name in education as well as in other fields like sports, arts and music.
- Our aim is to provide better education and opportunity to develop the natural talent of every child. Therefore, we put our efforts to master children in all the disciplines right from the beginning.
GDDS is one and the only school in India to take initiative towards adopting Sainik School and Gurukul based education system. Established in the year 2016, Good Day Defence School is run under the aegies of Guru Gobind Singh Charitable Trust in a sparkling lush green campus spread across wide land. Our staff is always ready to welcome and support parents and our welwishers at all time deligently. Apart from Science subject with vast laboratories, we do have well placed and functional laboratories for Mathematics, English to enable content study and enhance personality development of the student. Besides library which is equipped with subject and relevant books, an e-library is also established to cater the need of the students towards quality and information pertaining to subjects of interest. Sports is also an asset for our school as we have facilities for all indoor and outdoor activities starting with an athletic track of 400m, football, cricket, basketball, volleyball, badminton and handball ground. We do have swimming pool for seniors and juniors separately to ensure full and better physical development of our student in general. Students of our school are provided with holistic approach and to enhance their skills regular cultural activities are conducted in our open as well as indoor auditorium located in our school campus itself. The Good Day Defense School has adopted the Sainik School education system for the all-round development of children. This does not mean that every child is attached to the army, but our aim is that every child in the school be physically and mentally strong like our soldiers. For this, every type of training has been arranged in the school itself. In addition to the 400-meter athletic track, rope Kalimbing, Kargil Bridge, hangar wall, 5 feet wall, step up, etc., have been made so that the students can become familiar with the training of a soldier.Adoption of Gurukul system with Sainik School based education was a major challenge. We have also succeeded in accepting this challenge. Children's day in school begins by offering a sacrifice in the Havan Kund in front of the temple of Maa Saraswati. Every morning in the huge green campus, the atmosphere is further purified by the fire of havan. The daily prayer recites the Gayatri Mantra and children are told about the life and teachings of great men. In the school campus, not only the hymns of the Vedas resonate but also teach about other religions. Gurbani is recited from time to time at Good Day Defense School. The heart of service is also explained by connecting children with langar and other traditions. Apart from this, children are also told about other religions so that they can incorporate the teachings of all in their lives.
---
GO BACK